Welcome to the Official BALPEX website!
BALPEX 2020 has been cancelled due to the National Health Crisis. Plans are underway for BALPEX 2021.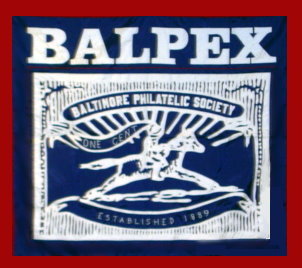 ANNOUNCING

The 83RD Annual Stamp Exhibition and Bourse on
September 3, 4, 5, 2021
Friday and Saturday 10am until 6pm
Sunday 10am until 3pm
BALPEX is a World Series of Philately Show
BALPEX Exhibits:
BALPEX 2021 Exhibits
to be announced
The prospectus for BALPEX 2021 will be available in February 2021
BALPEX 2021 Entry Form and Prospectus
Hotel:
Delta Baltimore Hunt Valley Inn
245 Shawan Road, Hunt Valley, Maryland 21031
I-83 at Shawan Road
Exit 20 East
Free Parking
BALPEX Awards Presentatiom:
Sunday
September 5, 2021
9:00 a.m.
Salon A
Hunt Valley Inn
Convening Societies:
The Universal Ship Cancellation Society
The Military Postal History Society
The American Society of Polar Philatelists
and
The Society for Czechoslovak Philately
Regional Meetings of the following Societies and Clubs:
American Topical Association (ATA)
Chesapeake Cinderella Club
Germany Philatelic Society (GPS) - Chapter 16
International Philippine Philatelic Society (IPPS)
BALPEX 2021 Jury:
Registration:
Click on Registration Form Below to Pre-register
Admission:
Free Admission and Free Parking

Friday and Saturday: 10:00 a.m. – 6:00 p.m.
Sunday: 10:00 a.m. – 3:00 p.m.
Philatelists under 16 must be accompanied by a parent or
adult guardian at all times.
For more information on BALPEX 2021
call 410-465-5712
or e-mail: balpex@verizon.net
Home | History | Baltimore Philatelist | Calendar | Membership | Balpex | Links | Contact Us
Website Design by Coastalwebservices.net