Welcome to the Official BALPEX website!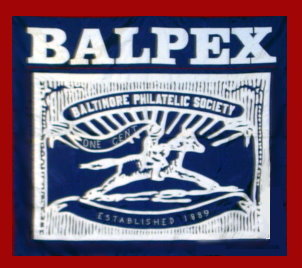 ANNOUNCING

The 76th Annual Stamp Exhibition and Bourse on
August 29 - 31, 2014
BALPEX Exhibits:
Exhibit deadline for entry into BALPEX 2014 has passed. Exhibits are closed.
click the link below and then print a copy of the prospectus
for a BALPEX 2014 exhibit only
Members of BNAPS wishing to exhibit on a BNA topic must enter
through the BNAPEX/BALPEX application process
BALPEX exhibits are judged by the BALPEX 2014 jury.

All BNAPEX exhibits are judged by a jury selected by that society.

Those BNAPEX exhibits which are also competing in BALPEX

will be judged by the BALPEX jury as well
Hotel:
Baltimore Hunt Valley Inn, Wyndham Affiliate
245 Shawan Road, Hunt Valley, Maryland 21031
I-83 at Shawan Road
Exit 20 East
Free Parking
Room rate: $120.00 plus tax
Code: "BALPEX" mention Baltimore Philatelic Society
BALPEX Awards Banquet:
August 30, 2014
7:30 p.m.
Garden Room
Hunt Valley Inn
Buffet Dinner
Carved Roast Beef
Salmon
Roast Pork
Mashed Potatoes
Vegetables - Chef's Choice
Cake Selections for Desert
Fresh Baked Breads
Coffee, Hot Tea, Iced Tea
Admission by ticket only
seating limited to 60
$55.00 per person
for tickets contact
BALPEX Banquet
3440 Ellicott Center Drive
Suite 103
Ellicott City, Maryland 21043
or
balpex@verizon.net
Convening Societies:
British North America Philatelic Society
Regional Meetings of the following Societies and Clubs:
American Topical Association (ATA)
International Philippine Philatelic Society (IPPS)
Vatican Philatelic Society (VPS)
George Washington Masonic Stamp Club (GWMSC)
Chesapeake Cinderella Club
Jury: for BALPEX 2014 exhibits only
Edwin Andrews, Chairman

David McNamee

James Mazepa

Philip Stager

Charles J.G. Verge

Steven Zwillinger, Apprentice
BNAPEX Exhibits:
Members of BNAPS wishing to exhibit on a BNA topic must enter through the BNAPEX/BALPEX application process - details included with the First Quarter BNA Topics.

For non BNAPS members and all exhibits on non BNA topics, the above link is your Prospectus for BALPEX 2014.
Admission: $5.00 for all three days.
click below then print the coupon for

Friday and Saturday: 10:00 a.m. – 6:00 p.m.
Sunday: 10:00 a.m. – 3:00 p.m.
For more information on BALPEX 2014
call 410-465-5712
or e-mail: balpex@verizon.net
Home | History | Baltimore Philatelist | Calendar | Membership | Balpex | Links | Contact Us
Website Design by Coastalwebservices.net